The key to successful marketing on Twitter is consistency—the kind of consistency that doesn't lack quality.
But let's be honest, it sometimes gets hectic to maintain tweet consistency and quality.
And you, as a social media marketer, must be facing the same problem.
The recent transition from handling a single account to managing multiple social media platforms can take a toll on your performance.
But what can you do to maintain an active and qualified Twitter presence while efficiently conducting other day-to-day job activities?
Well, you can learn how to schedule tweets!
Scheduling Twitter posts keep you ahead of time so you can always have your feeds filled with quality content without the hassle of manual posting, and there are two ways to do it.
Third-party Twitter scheduling using SocialPilot
Scheduling tweets natively on Twitter
This blog will discuss how to schedule a Twitter post using these tools like a pro marketer.
Let's dive in.
How to Schedule Tweets with SocialPilot?
Before we continue, you have got to sign-up for the 14-day free trial of SocialPilot. Dont worry, it will take just a second and requires no credit card details. This will help you understand how to schedule Twitter posts practically.
As far as the scheduling is concerned, SocialPilot lets you schedule, draft, review, and manage multiple tweets from different Twitter accounts from a single dashboard.
Moreover, it also gives you the ability to bulk schedule up to 500 tweets at once, which we will discuss briefly later in this article.
But first,
Let's see the 3 easy steps to schedule a tweet after linking your profile in SocialPilot.
Step 1: Craft Your Tweet
Click on 'Create Post' from the SocialPilot dashboard then compose your tweet.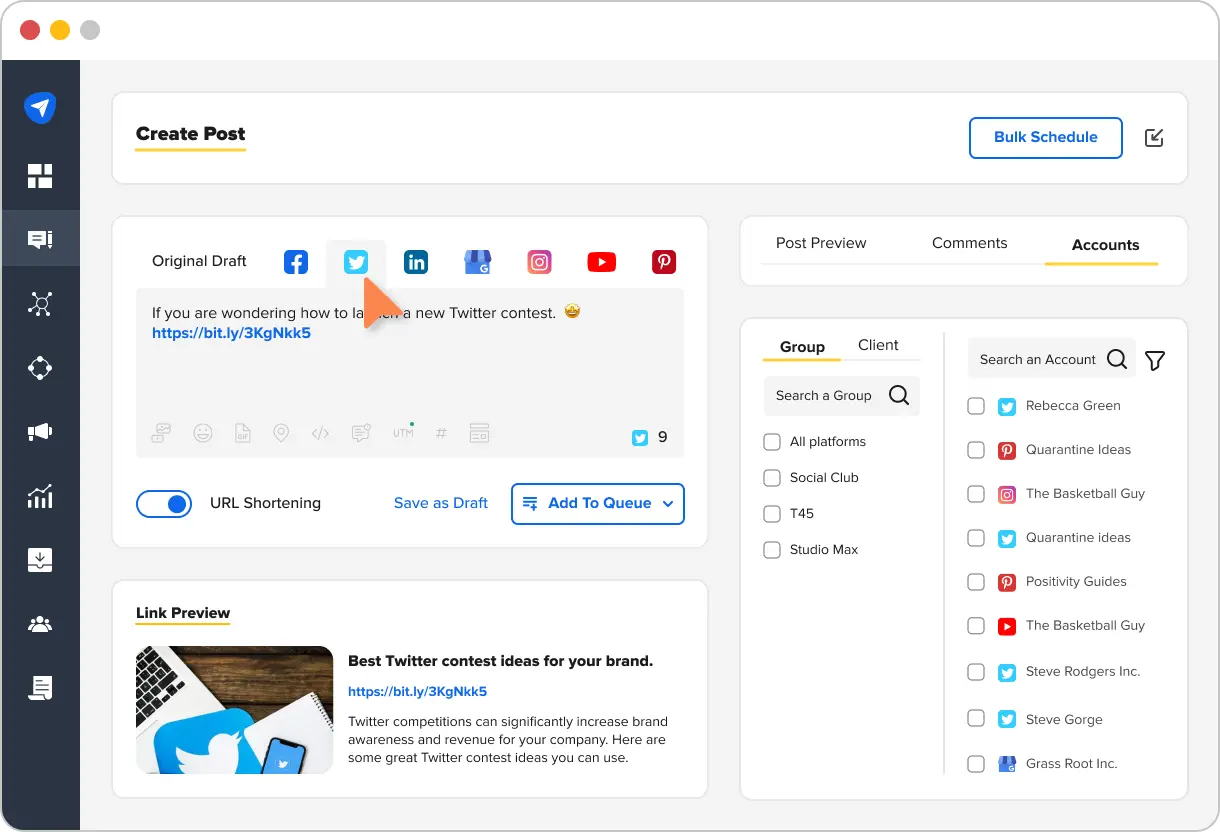 Here, you can create your tweet just as you do on Twitter. To make your tweet more engaging, customize it by adding different multimedia options available, such as videos, single or multiple images, Gifs, and emojis.
Moreover, you can give your tweet additional location context to reach out to a new audience or participate in the local conversation for better targeting.
You can also reach out to other accounts by adding "@" followed by their profile name in your tweet to get more reach and engagement.
Further, you can create and customize UTM parameters and add them to the links you share on Twitter.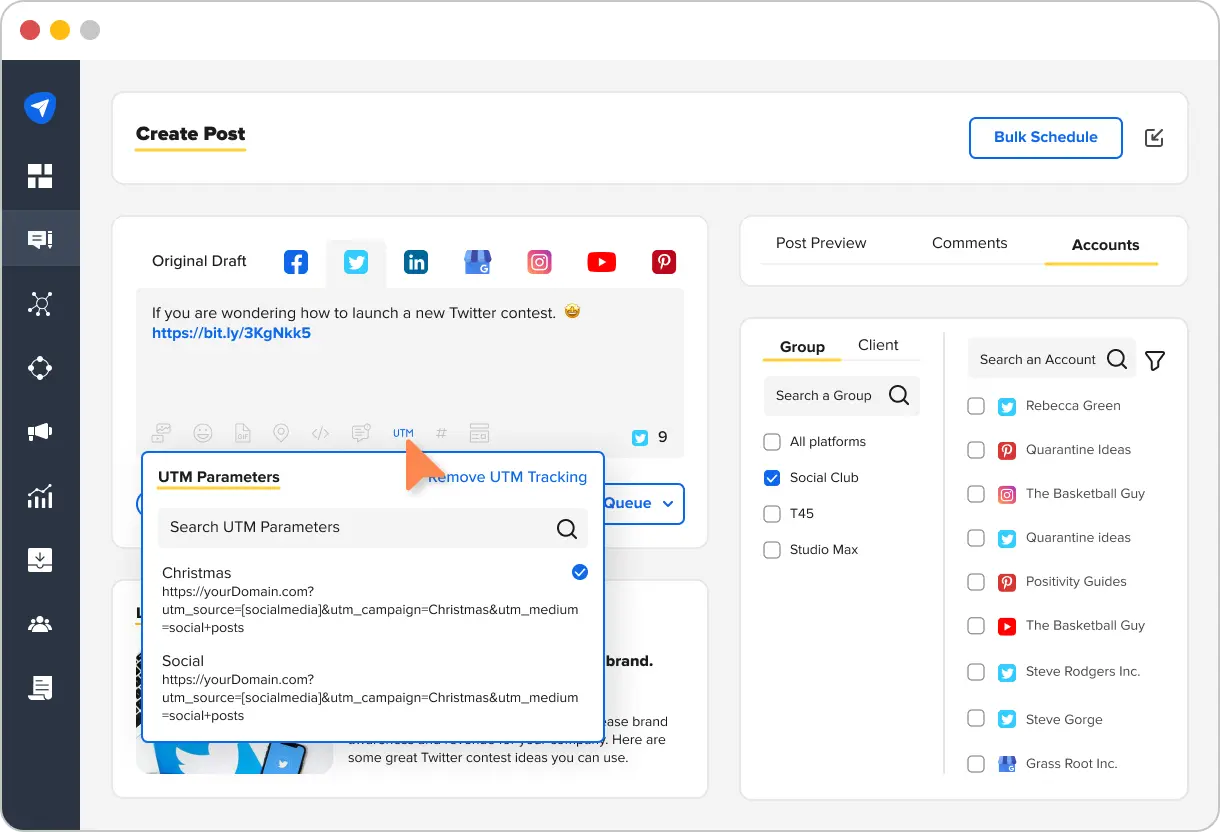 Step 2: Select Your Twitter Accounts
Once you are done crafting your tweet, it is time to select the Twitter account for which you want the tweet to be published (You need to add accounts first in the app).
Navigate to the right to select the post's destination Twitter account . You can also schedule the same tweet for other social media platforms that you will find in the "Select Accounts" section just by checking the box beside their name.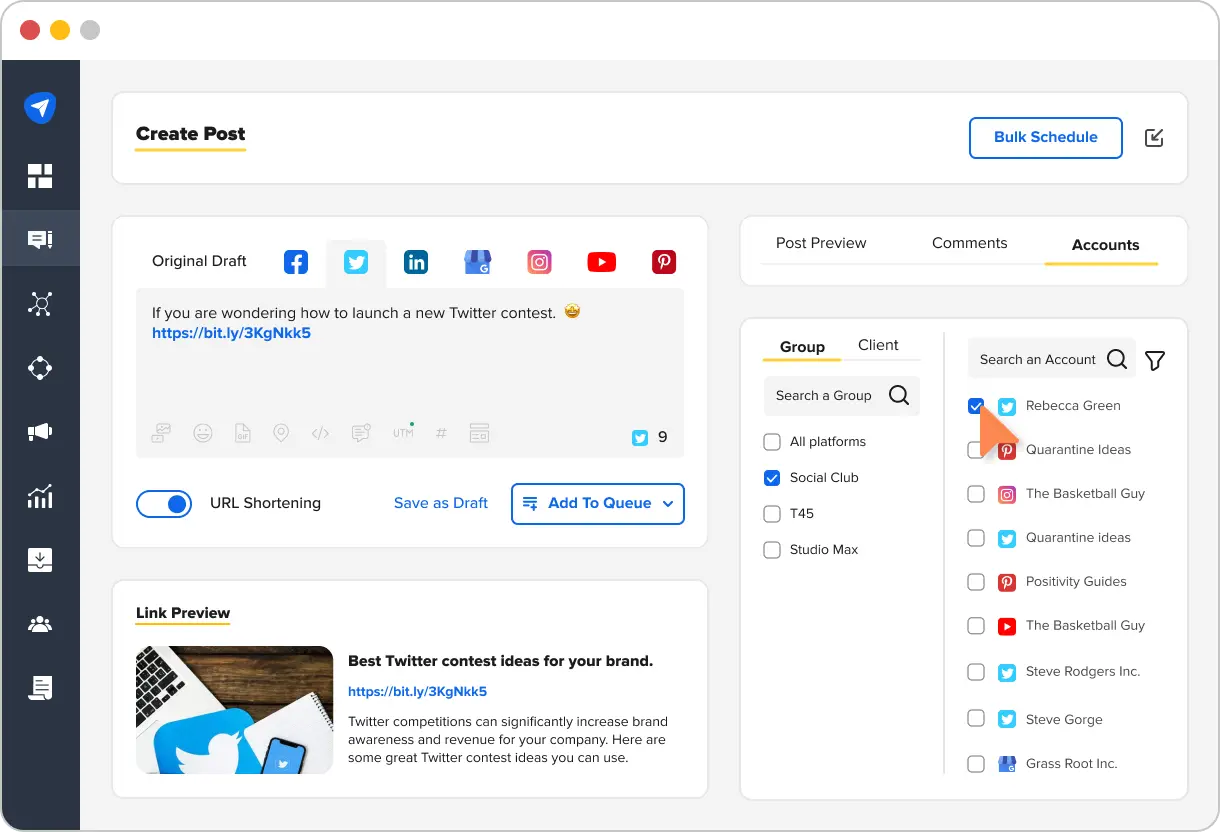 That's how you can create one piece of content for multiple social media platforms and share it at once.
But remember,
You can schedule a tweet for only a single account at time. This is because Twitter's APIs consider using the same tweet for multiple accounts as spamming. However, you can always recreate the post and share it on other Twitter handles.
Step 3: Schedule Your Tweet
Now, scheduling your tweet is just a one-click task, but let us take you through all the options available for publishing your post: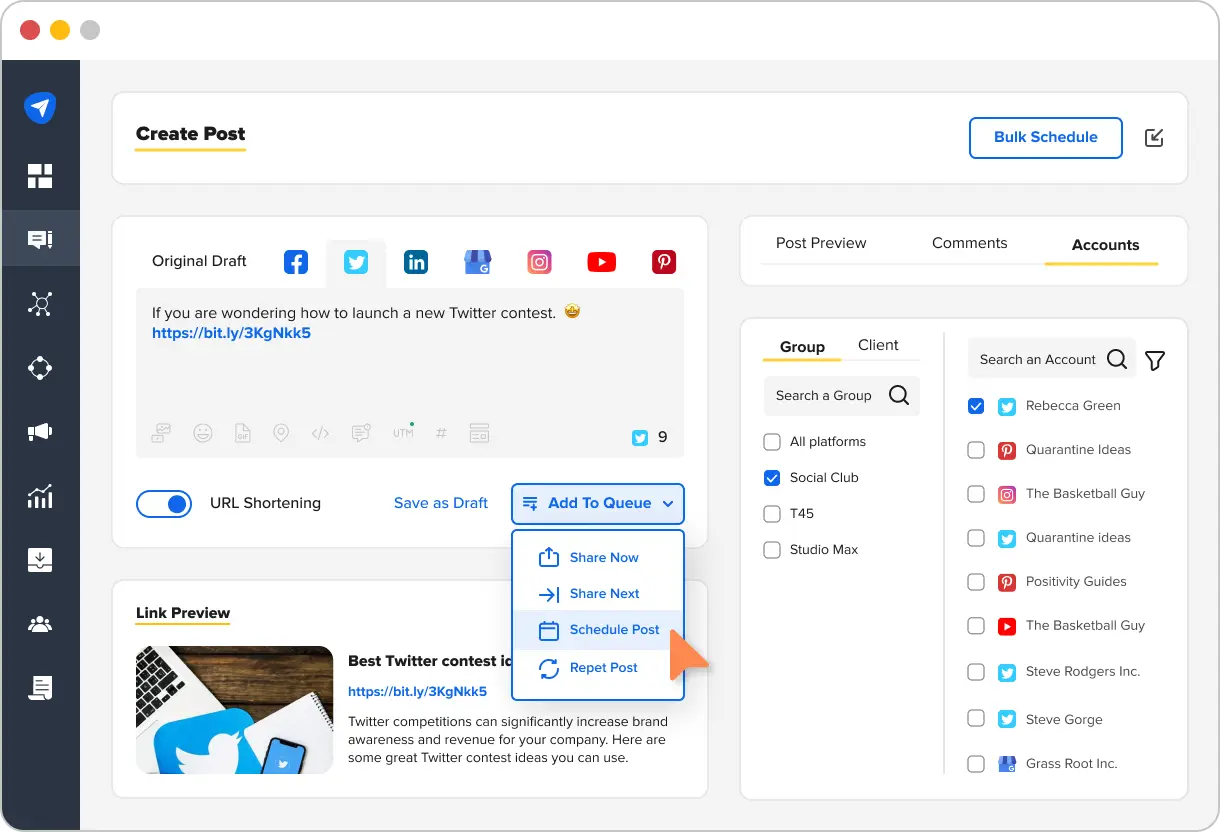 Add to queue: You can use this option to schedule your tweet for the next available time according to your pre-set schedule.
Share Now: No time in between, Instant sharing.
Share Next: This option will put your tweet on the top of the queue to be sent next.
Repeat Post: To schedule the same tweet on repeat multiple times across multiple days.
Voila! Now you know how to schedule a tweet perfectly ahead of time so it gets published without any mishaps.

Now imagine the things you can focus on once you can pre-schedule your tweet. It keeps your posting consistency intact and releases you of the hassle of posting manually.
However, scheduling regularly for multiple accounts on various platforms can sometimes prove to be too much to handle.
Don't worry, we have guessed your plight and have the perfect solution at hand!
How to Schedule Multiple Tweets in Bulk?
As a social media marketer, you have an obligation to your clients to manage and promote upcoming events and product launches on social media. While doing so, you have to ensure a daily dose of content by scheduling multiple tweets for different clients throughout the month.
Needless to say,
You will have the whole month's tweets already planned in a spreadsheet to be published.
In that case, scheduling each post individually would be a drag.
We have a solution – the bulk schedule feature!
SocialPilot's bulk schedule feature allows you to schedule up to 500 images, text or article link tweets at once using a CSV file, saving you from wasting a colossal amount of time.
Isn't that amazing?
Besides Twitter, you get the bulk scheduling feature for multiple social media platforms, such as Facebook, LinkedIn, Instagram, YouTube, Pinterest, Google Business Profile, etc.
Let's break down the process of scheduling multiple tweets at once with bulk scheduling using SocialPilot.
Step 1: Upload Your CSV File
Scheduling these many tweets is easier done than said. All you have to do is drag and drop or click in the dotted square box to upload the CSV file.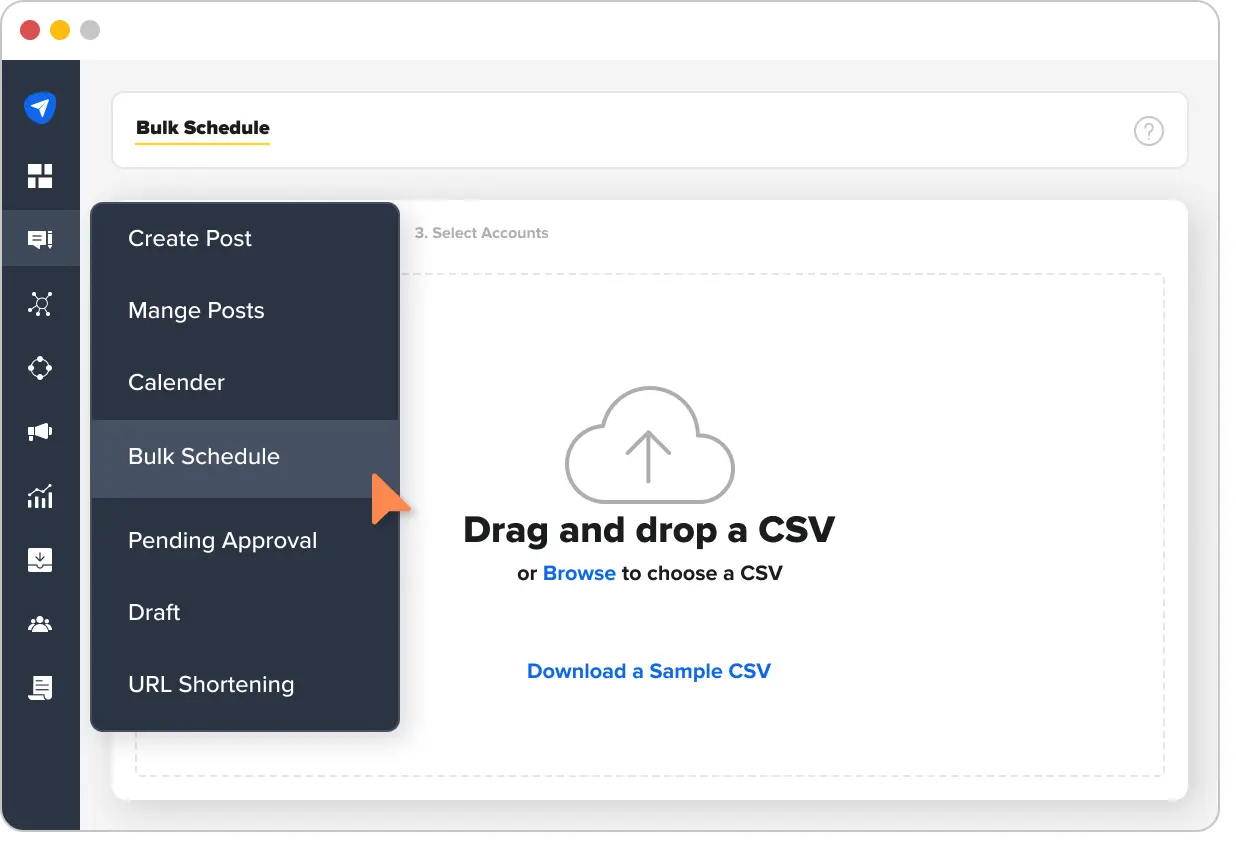 Step 2: Review the Posts
When dealing with so many tweets, it is better to have a last-minute check before scheduling them.
Thereby, once your CSV file is uploaded, you will be directed to the preview window.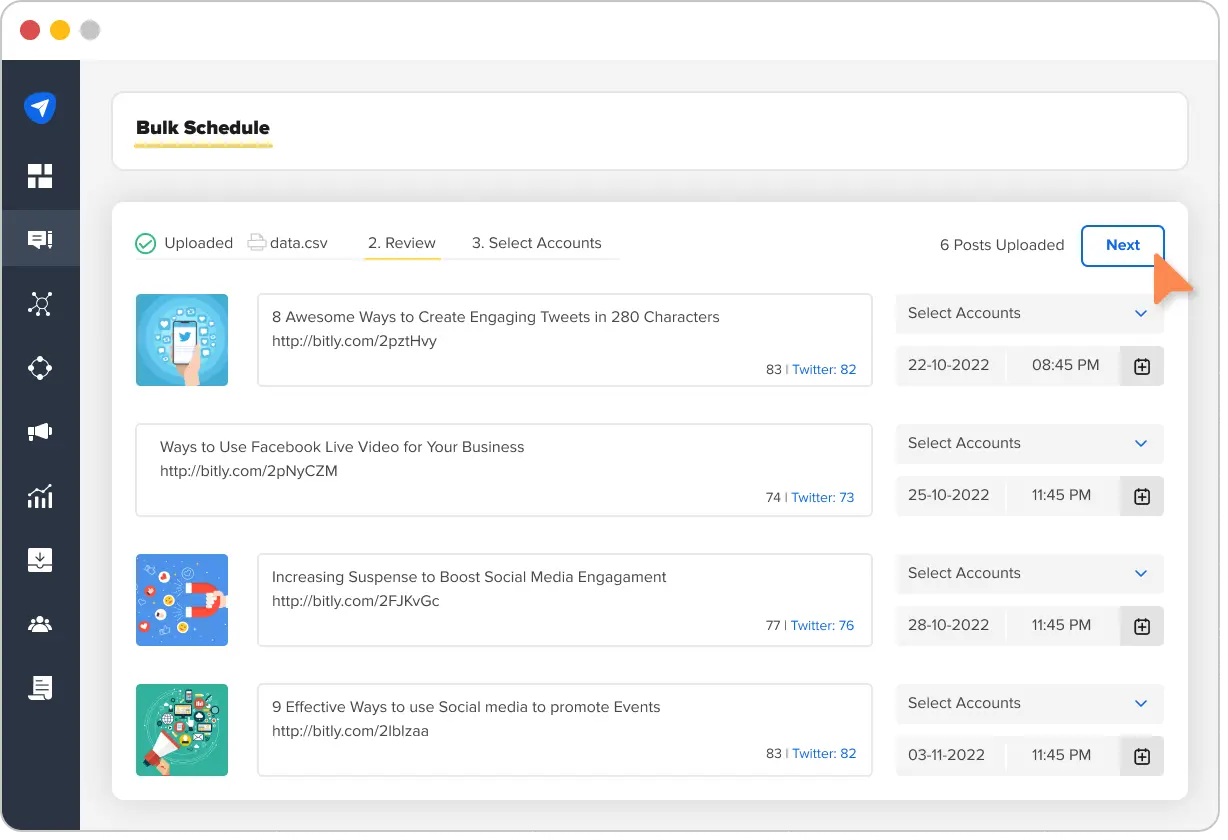 You can review all the posts alongside their images and make any required edits here.
Moreover, you can see all the posts with an assigned account in the CSV file and the tweets that don't have an account given yet.
Further, you can select the accounts for all the posts with no account assigned.
Now, click on the "Select Account" button.
Step 3: Bulk Schedule Multiple Tweets in One Click
You are all set. Click on the "Schedule post."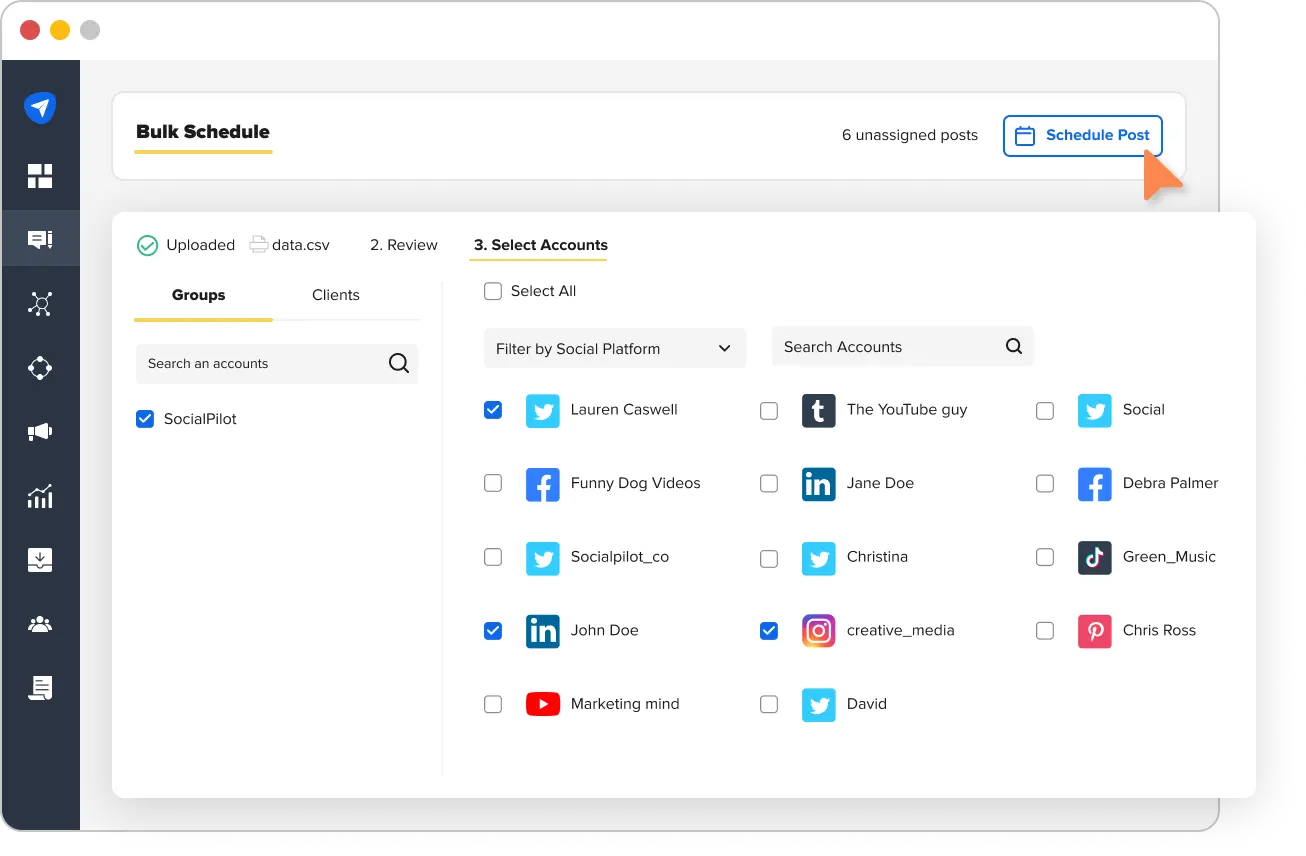 Your bulk posts are all scheduled and ready to publish once their time comes.

How to Schedule Tweets on Mobile?
There will be days when you will have to work on the go. And Twitter doesn't allow you to schedule tweets from its mobile application.
In such a case having a Twitter scheduling tool like SocialPilot, which enables you to schedule tweets on mobile through application, is a blessing.
Let's see how to schedule tweets on mobile through SocialPilot.
Step 1: Login and Write Your Tweet
You can get the SocialPilot application on Android Play Store and App store.
Log in to your SocialPilot account through our mobile phone application and tap on the "Create Post" button in the left side menu.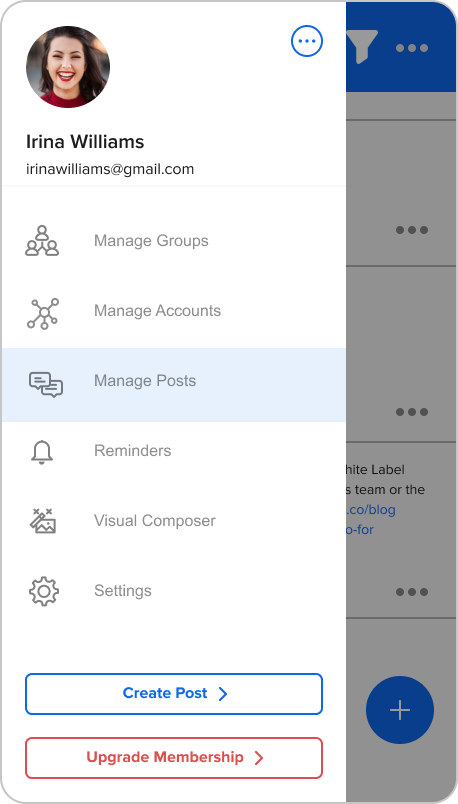 It will open up the post composer for you, where you can craft your tweet.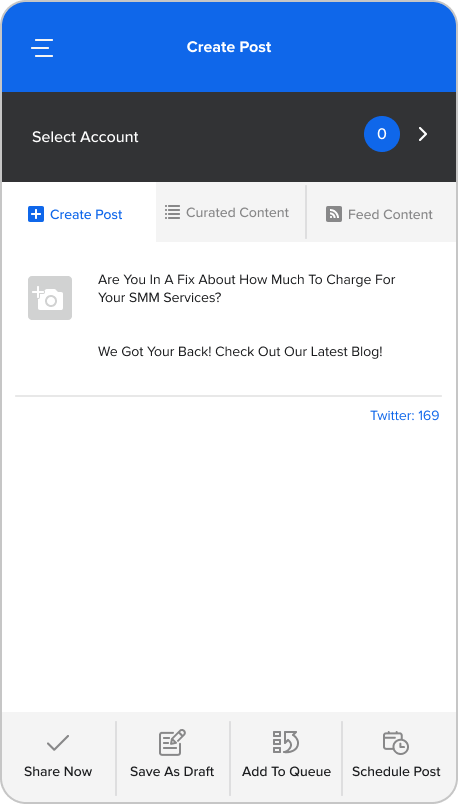 You can also add an image, video, or GIF to accompany your tweet.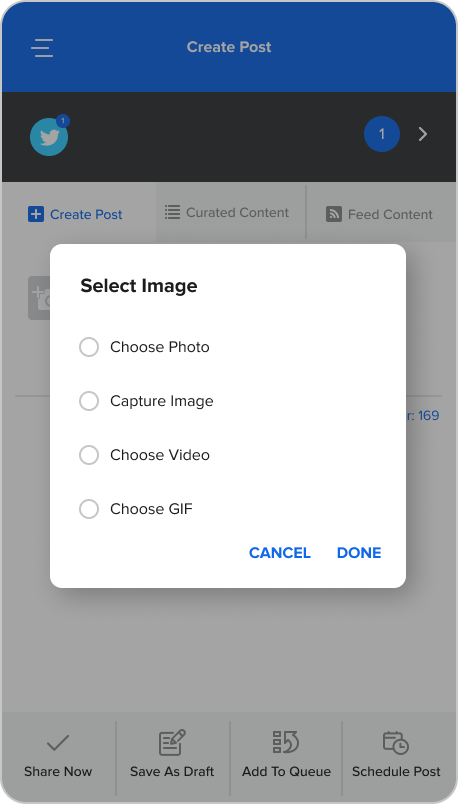 Step 2: Select the Account
Once your tweet is crafted, tap on the "Select Account" bar to open the list of social media accounts you have connected with SocialPilot.
Here, select the Twitter account on which the tweet will be published and tap on the "✔" button.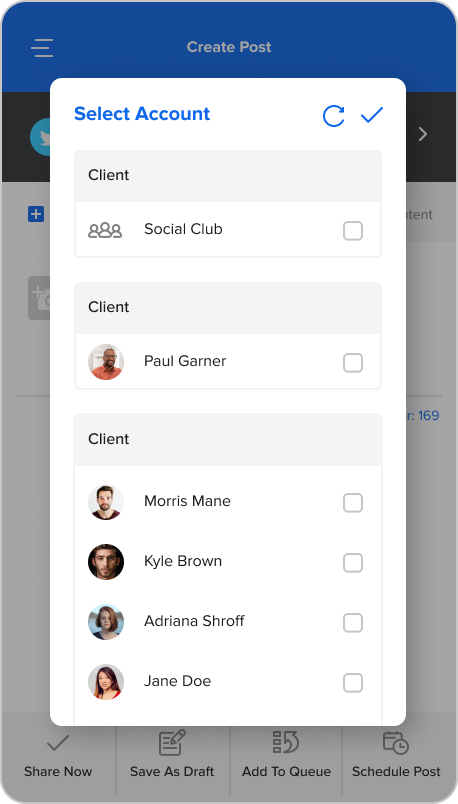 Step 3: Schedule the Twitter Post
Now all that is left is to schedule your tweet at the right time and date. Simply tap on the "Schedule post" in the bottom menu and select the time and date.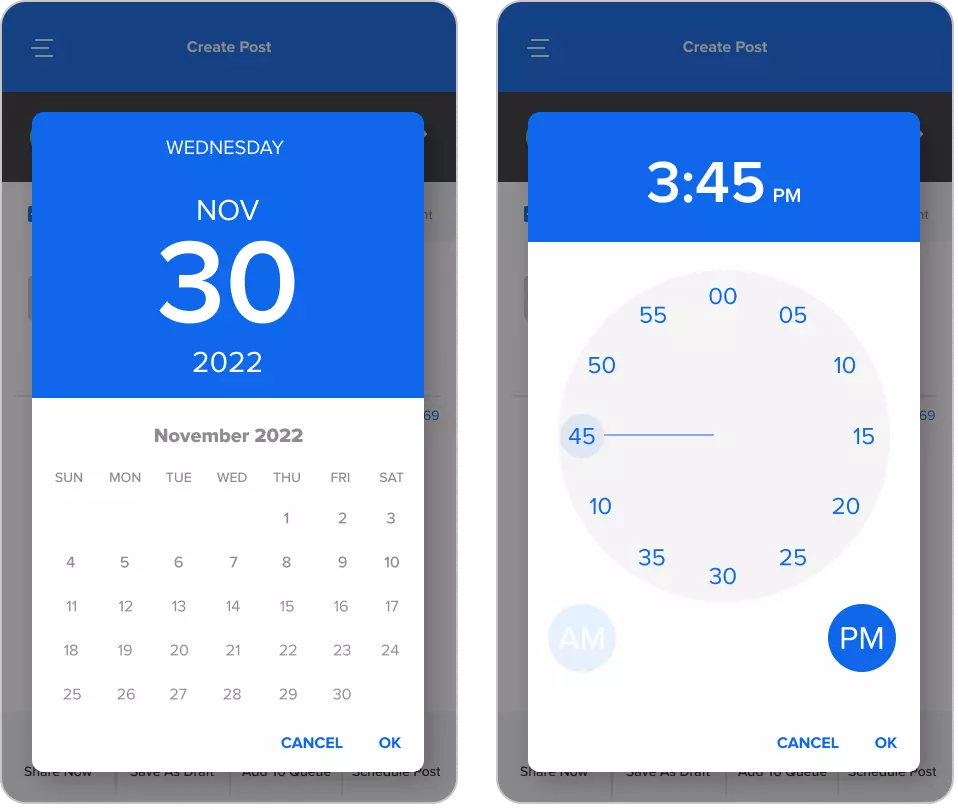 Yay! You have scheduled Twitter posts on mobile.
How to Manage Posts after Scheduling?
Once you are done scheduling your tweets, they get queued into another section called "Manage posts."
What can you do in this section?
Here you can get a clear picture of every scheduled and bulk-scheduled post. This section will give you complete control over your posts even after being scheduled.
Let's briefly look at all the categories in "Manage Posts" section and the features available in the.
Queued Posts: It gives you the listicle view of all your scheduled posts and their posting time, date, and destined social media platform. Here you can edit the contents, delete, duplicate, or reschedule the post.
Unscheduled: You will find your posts in this tab for two reasons only: if you had added a post in the queue without having a time slot defined for an account If you had scheduled more posts than your account limit.
Delivered: Under this tab, you will find all the posts already published using SocialPilot.
Error: You will find all the posts rejected by the social media APIs under this tab. Fret not; you can always modify and schedule them again.
Pending Approval: Did I tell you about SocialPilot's team management feature? No, check it out. Under this tab, you will find all the posts that are yet to be approved by the account's admin.

How to Schedule Tweets Using the Twitter Scheduler?
Twitter also has its native scheduler, which gives Twitter users the capability of scheduling and managing their tweets efficiently.
Let's see the step-by-step process of scheduling tweets using the Twitter scheduler.
Step 1: To get started, go to your home screen and click on the big blue "Tweet" button at the bottom of the menu on the left side of the screen. You can also click on the tweet composer to create your tweet.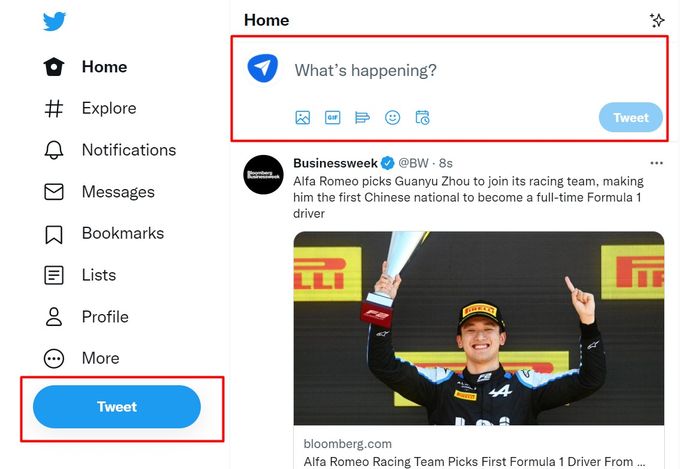 Step 2: Now, start writing your tweet in the post composer. Here, you can add different media options to your tweets, such as images, videos, Twitter cards, or polls.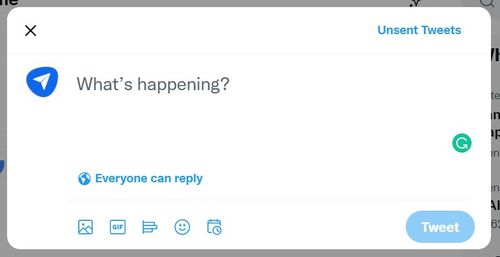 Step 3: Now, schedule your tweet using the calendar at the bottom, asking you to choose publishing time and date – you can select a date up to a year in advance. Fill in and confirm it, and then click on the "Schedule" button.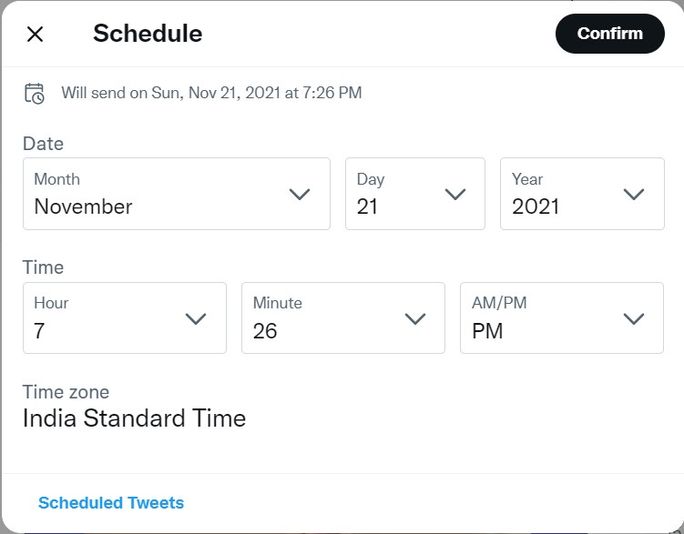 Conclusion – How to Schedule Tweets
In this competitive era of social media marketing, having a tool to schedule Twitter posts in your marketing tool stack is more of a necessity than a mere option.
Whether you are a social media intern at a firm or handling multiple accounts at your agency, using a tweet scheduler will make your life so much easier.
The benefits of scheduling tweets? – a lot.
You are reaching your audience at the right time, getting more engagement, and having more productivity.
What more could you ask?
Start using SocialPilot to manage the whole nine yards of Twitter scheduling and achieve your Twitter marketing goals.