You wish to get a break as a marketer working with your favorite brand or learning from mentors you look upto. But whenever you approach someone for a project or a role, you get stuck when they ask for your portfolio. You don't have one because you there's no or little experience to show yet.
But unless you get a job or project, you won't be able to build a portfolio. It looks like a gridlock. But the good news is, you don't need a job at a fancy company or do projects with famous brands to build a portfolio that shows your skills.
In this post, we'll explore 7 ideas on how to create a portfolio that makes people say 'yes' to you when you approach them as a marketer.
What is a Marketing Portfolio?
A marketing portfolio is a digital collection of your best work that can assure a potential employer of your capabilities. You can create a dedicated website demonstrating all your previous stints, or you can include the link to web pages of your work.
You can include ad copies, blogs, landing pages, designs, or social channels in your marketing portfolio as proof of work.
Here is Gill Andrews's marketing portfolio as an example to get inspired. The portfolio is concise and clear, with no room for confusion. It offers a value-based service answering visitors' what, why, and hows.
Why is it Important to Have a Marketing Portfolio?
To win your clients, you will have to give them a reason to trust you. That's where a handy marketing portfolio becomes a goldmine. Investing in one will reap great benefits for you along your marketing career journey.
1. Rev Up Your Career
A well-designed marketing portfolio introduces you to the right opportunities. Potential clients can refer to your portfolio to get a glimpse of your working style and reach out to you quickly.
2. Promote Yourself
You can't walk around with your happy customers promoting your work.
But that shouldn't stop you from publicizing your success. Client testimonials can fit perfectly in your portfolio to build trust among the audience. You can even leverage social media to boost the reach of your portfolio.
3. Showcase Your Skills
Portfolios are the simplest way to tell your target market about what you have to offer.
What makes it even better is that it's a visual representation of your skills, making it easy to glance at and digest.
4. Build Your Brand
Tired of chasing clients?
If you want more prominent clients with better returns, creating your brand is the way to go. Once your work has credibility and people can trust you for their work, then high-value clients will reach out to you proactively.
How to Build a Marketing Portfolio (Without prior experience)?
Now comes the million-dollar question of how to build a marketing portfolio, especially if you are just starting out and might not have any sample work to add.
1. Choose an Online Platform
Not just what but how you choose to share the information plays a huge role in getting the right attention.
That's why before anything else, choose the right platform to engage your audience.
You can build a website through online tools like WordPress or Wix and buy a domain to get started. The biggest advantage of such platforms is that you get ready-made templates, saving time and effort. Whereas a custom domain name makes your portfolio look more professional and polished.
2. Determine a Layout
Your website visitor will take only 10-20 seconds to decide whether they want to stay or leave. It can be too much pressure to catch and hold their attention.
But if you know what you are doing, it's easy to get past this problem.
Start with decluttering your website. Too much information, too soon, can confuse the audience and make them walk away. Instead, use a simple layout that relays the necessary details without overwhelming them.
Here are some must-haves on your website.
A name and professional headshot for instant introduction
A short biography that tells the reader more about you and your motivations
A business or personal statement to signify what services you offer and how you can help the visitor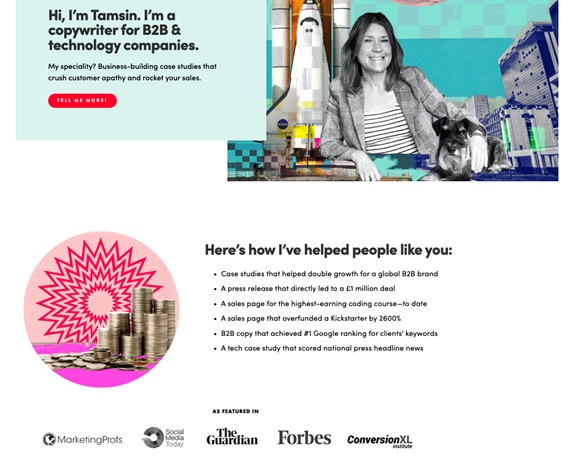 Some sample work– blogs, copywriting, landing pages
Client reviews or awards to induce trust
Your contact details with a CTA to close the deal
3. Leverage Pet Projects
If you can follow the structure mentioned above, it's great. If not, don't worry. We have got you covered.
It's not necessary to have impressive client reviews or awards to bag the clients. The main thing is to get your work out in public, irrespective of for whom you have done it.
So, you can fill the gap with your personal projects too. It could be an SEO-optimized blog you are running or a social media channel you started from scratch.
Include the links to those on your website for people to see your skills. Ensure that the blogs are related to your niche or skills. For example– if you specialize in email marketing, write more about it to come across as a subject matter expert.
Also, work with social media channels that are popular and relevant in today's digital era.
4. Browse Through College Assignments
Even the college assignments which most students dread can be used to add substance to your portfolio.
If you have worked on some exciting projects during your college time, polish them up and include them on your website.
The assignment doesn't even have to be elaborate. Even small but meaningful work will be just fine. And you can always switch these with better projects you will get along the way.
5. Volunteer For Free Services
It's understandable if you don't have any project or assignment to show on the website in the beginning.
You can start by offering free services to clients as a limited-time deal to get the initial momentum. Reaching out to your local non-profit organizations is also a big opportunity to build your customer base.
You can ask these clients for their reviews or referrals instead of money.
If working for free seems like a stretch to you, charge a nominal fee for your services.
Remember that it's just a temporary tactic to gain clients and credibility. After getting a few projects, you can start with the full charges.
6. Get Your Skills Certified
You can get certifications from verified institutes to assure people that you know what you are doing.
Choose a skill that can be translated to a paying service and enroll yourself in that suitable course. For example- video marketing is a booming skill businesses demand growing on social channels.
You can add the certificate to your portfolio to convey authenticity and trust.
7. Engage With Your Existing Audience
Word-of-mouth is hands down still the best form of marketing.
But you need to do something to convince your audience to root for you.
Instead of hard-selling, shift gears and work your way smoothly into the client's inner circle.
Build a mailing list and engage with your audience through relevant content. You can do so by sending weekly newsletters. Keep a share option in your emails to grow your contact base.
Reaching out to them on direct messaging platforms like WhatsApp is also an effective way to keep yourself fresh in the client's mind.
Also, provide a subscribe button on your website and interact with your subscribers through appealing transactional emails.
Treat Your Portfolio Like Business Card
Building a portfolio worth a client's time can seem like a huge challenge. Fairly so.
But it's nothing you can't beat with the correct information and tools. Even if you don't have too much to add to your portfolio, you can still hold your audience with your presentation. To impress the employer, you can combine your resume and portfolio with a cover letter, written keeping the particular client in mind.
Adopt a conversational marketing style to connect with the audience and make them feel at ease. Research the cost-effective or free tools to boost your marketing efforts.
And most importantly, remember that you won't get your hands full of opportunities overnight. It will happen eventually, but before that, you must keep learning and unlearning to enhance your services.
Stay consistent with your efforts and keep updating your portfolio with the latest information.