November 19, 2022 (MLN): Finance Minister Ishaq Dar on Saturday addressed the nation that Pakistan will not default on external payments, and will meet its upcoming $1 billion Sukuk bonds payments maturing on 5th Dec'22.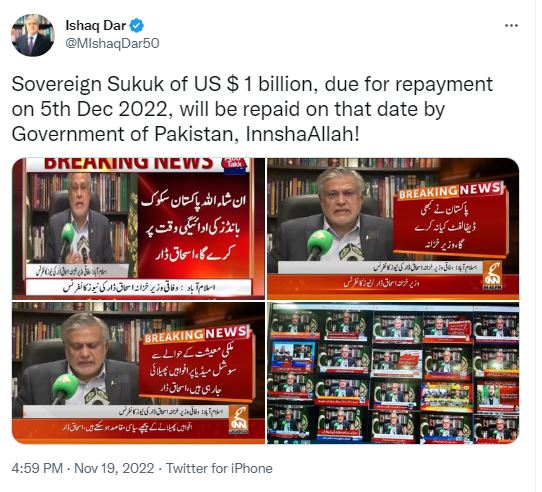 "All rumors spreading in the country on default, external payments difficulties, credit default swap and fuel shortages have been political motivated", Dar said in a press conference via video on Saturday.
Dar said, "This is a massive injustice with Pakistan", the country will not default and all these rumors were spread on a political basis pertaining to the Credit Default Swap (CDS), are useless.
He further added that another rumor was spread about CDS that it was 5% and now 75% and country is facing high risk of default, which is baseless.
Talking about the fuel reserves in the country, he said Pakistan has enough reserves of petrol and diesel and speculations on this need to be avoided.
Ishaq Dar said that there were still rumors about the current account deficit. The current accounts are being closely monitored and are professionally managed, he added that the current account deficit was $316 million in September, which was expected to be $400mn in October.
"That is, by the end of the financial year, the current account deficit is likely to be $5bn, while the target of this deficit for the current financial year is $12bn. The current account deficit is expected to remain below target," he added.
Ishaq Dar urged the people to think for Pakistan beyond their political affiliations and avoid speculations.
Copyright Mettis Link News
Posted on:2022-11-19T21:21:18+05:00
35923